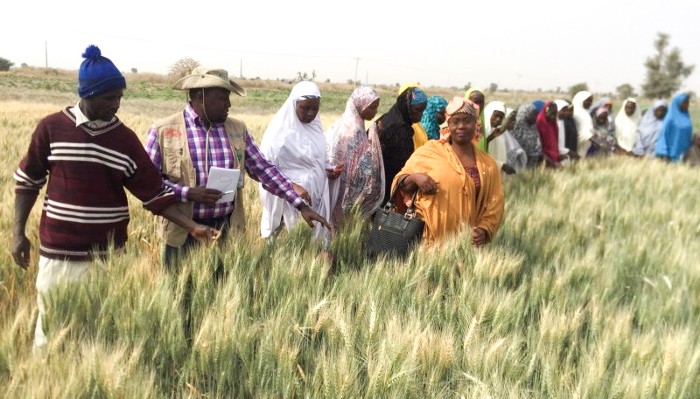 Farmers review wheat varieties as part of a participatory varietal selection organized for displaced farmers in Hadejia, Jigawa State, Nigeria. Image: Kachalla Kyari Mala
In Northeast Nigeria, where agriculture forms the backbone of rural communities and livelihoods, Boko Haram has forced millions of men and women to flee their homes, taking refuge in crowded settlements on the outskirts of the region's largest cities and towns, and leaving behind not just their homes, but their ways of life.
In the region's largest city, Maiduguri, an estimated 130,000 Internally Displaced People (IDP) have settled into urban and peri-urban IDP camps — part of over 1.4 million displaced people residing in camps throughout Borno State alone.
Many in the camps are farmers by profession, cut off from their lands and communities, and unsure of when they will be able to return home. Along with the cramped quarters, they share an eagerness to get back to their fields and earn a living again. Yet even in these dire circumstances, a program is helping displaced Nigerian farmers create income opportunities and plan for the future by providing gender-responsive training, education about best agronomic practices, access to land and seed, and marketing opportunities.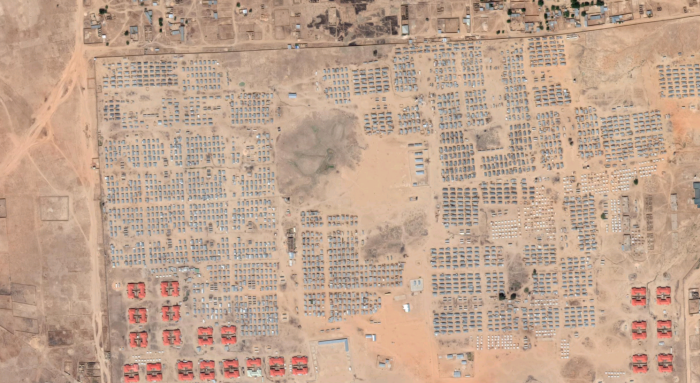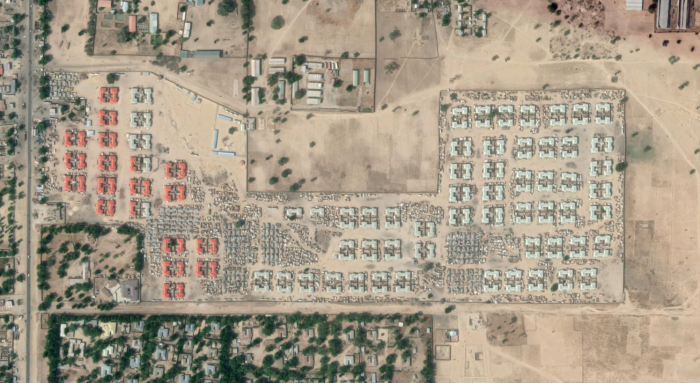 IDP camps in and around Maiduguri and other cities in NE Nigeria tens of thousands of displaced farmers. The Bakassi Camp alone, above, is home to more than 30,000 displaced people. Kachalla's work focuses on the Farm Centre IDP Camp, below. Images: Google Maps
"The people in the IDP camps, most of them are farmers. What they know is farming. This is their business," explains Maiduguri-based researcher Kachalla Kyari Mala, a wheat breeder at the Lake Chad Research Institute (LCRI), part of the Agricultural Research Council Of Nigeria.
Kachalla's project, Gendered-based Opportunities and Constraints for Wheat Production in Internally Displaced Person's (IDPs) Camps, was designed "to improve the livelihood of IDP's with equity and equal opportunities between women and men wheat farmers in relation to access and control over assets, inputs and benefits including wheat technologies."
LCRI initiated the training program in 2018 to assist displaced wheat farmers living in the IDP camps. The project launched after Kachalla and his team received training in gender-responsive agriculture research methods starting in 2017 through the Gender-responsive Researchers Equipped for Agricultural Transformation (GREAT) project, a joint effort between Makerere University in Kampala, Uganda, and Cornell University, in the United States.
Kachalla, a wheat breeder by profession already holding degrees in botany, genetics and crop breeding, is currently working towards a Ph.D. in crop breeding. The research center where he works has a national mandate to aid farmers by breeding for genetic improvement of wheat, barley, and millet. He never expected to be working in camps with displaced people, or that his work would be so impacted by political and social issues.
Like many in the life sciences, Kachalla's training didn't prepare him to work on such issues, but now his work demands it.
And like much crop breeding work taking place in a development context, Kachalla and other researchers on the project had to learn to engage communities in different ways, and collect data that could help them better understand how men and women relate differently to crops, in the field and beyond. This meant learning to use methods like key informant interviews and sex-separated focus group discussions — tools more frequently associated with social scientists than plant breeders. It also meant viewing crop breeding within a larger social context, and leaving the field and station to get into the communities. In this case, it meant spending significant time within the IDP camps, and seeing that the crop itself couldn't be separated from the community.
Chris Knight
Chris Knight is a documentary filmmaker, photographer, journalist, and audio-visual technician at Cornell University.
For press inquiries or for more information, email us at great@cornell.edu.