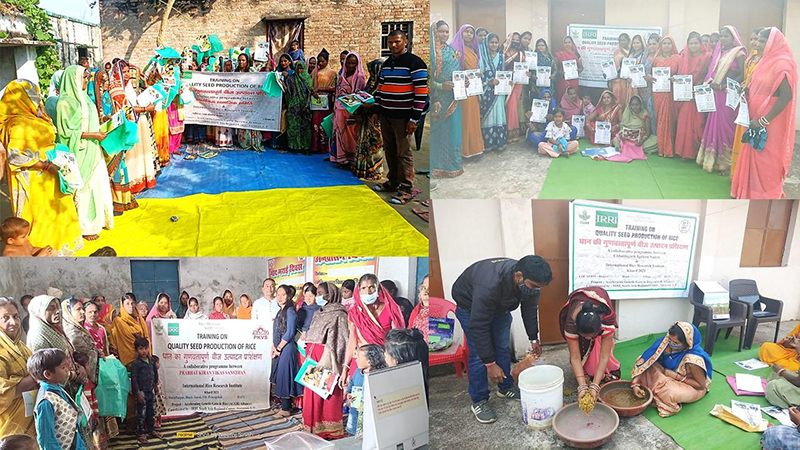 The vision canvas
In rural India, the involvement of women in agriculture for their livelihood is as high as 80%, where 33% are cultivators and about 47% are agricultural laborers (Rao 2006; FAO 2011). Yet, women own only 13% of the farmland (The Hindu Business Line 2013; Shreya Raman 2019; Aditi Phadnis & IndiaSpend 2020). Women are also often excluded as a target audience in extension programs, receiving farming-related information from secondary sources.
Quality seed is the foundation for productivity and a bearer of new technologies, which can lead to the well-being of rural families who depend on farming for their livelihoods. The practice of seed saving has been a cornerstone of Indian farming traditions that made agriculture a way of life, especially in rural villages. However, in Eastern India, limited or no access to quality seed created a weak informal seed channel (exchange of farm-saved seeds with other farmers), which results in low yields after successive cultivation (Lal et al. 2017). Thus, the practice of quality seeds production and storage and the awareness of improved varieties are the need of the hour on the ground level.
In many rural communities, saving seeds over the generations is a farming activity primarily carried out by women (FAO 2011; NCFW 2005). Women who are involved in farming need to be brought to the front row as the primary farmer or seed grower by supporting their capabilities in seed multiplication, management, and storage.
Equipping women as skilled seed producers
Under its social equity goal, the International Rice Research Institute (IRRI) is taking steps to narrow the gender gap for women farmers by establishing the link between the empowerment of women's groups and cooperatives and seed security through local, gender-responsive training, communication, and information materials.
The Seed System and Product Management Team at IRRI-South Asia Regional Centre (IRRI-SARC) implemented training workshops for women farmers with the support of the Accelerated Genetic Gain in Rice (AGGRi) Alliance project. Funded by the Bill & Melinda Gates Foundation, the AGGRi Alliance speeds up the delivery of improved rice varieties and improves the access of farmers to quality seed in Eastern India. The team organized three training workshops in key locations of eastern Indian states in Bihar, Uttar Pradesh, and Chhattisgarh in collaboration with network NGO partners.
In Bihar, the training was conducted in Prayag Chak Village of Muzaffarpur District, Aurai Block with partner NGO Prabhat Kiran Vikas Sansthan on 19th December 2021 with 40 participants. On 1st January 2022, 30 participants attended the workshop conducted by the team with Chhattisgarh Agricon Samiti in Nimora Village of Raipur District, Abhanpur Block in Chhattisgarh. In Eastern Uttar Pradesh, the workshop was conducted with Aparajita Samajik Sangha for 40 participants on 10th December 2021 in Godhaiya Village of Bahraich District, Kaiserganj Block.
A total of 110 women who are directly (65%) and indirectly involved (35%) in rice cultivation in their respective areas, strengthened their knowledge of new improved rice varieties and quality seed production technology. The women participants were mostly farmers, members of agricultural cooperatives, and farmers' organizations. The participants received both practical and theoretical aspects of seed production from field data enumerators, experts from partner organizations and the State Department of Agriculture.
IRRI also provided the participants with the hermetic grain storage IRRI Super Bags and quality seed production and pictorial guide booklets both printed in regional languages.
Impact with Seed Custodians
In Eastern India, women farmers have the enthusiasm to magnify their role in increasing the availability of quality rice seeds of promising varieties at the farm level (Dar et al., 2020). Equipping women with the right skills as well as appropriate knowledge will help them transition into partners of IRRI who impart the same knowledge and enthusiasm to other women farmers. This will help to minimize the gap in supply and demand for improved rice varieties in their communities and ensure food security.
Ultimately, building the capacity of women farmers will help them become major and significant conduits for transforming the rice and agriculture sector, especially under the impact of the COVID-19 pandemic. This will be important in building resiliency to agricultural shocks caused by disasters like drought and flood among other women in surrounding villages.
Equipping women with skills in quality seed production and maintenance has the potential to  give them a greater involvement in farm-level decision-making processes (i.e. what varieties to plant, operations for quality seed production and storage) and better access to new technologies, land, and other critical farm inputs, which will go a long way in enabling them to fulfill the seed need of villages. This is the key to food and livelihood security of the people especially in the wake of climatic changes.
This initiative aims to encourage seed business entrepreneurship among the women's groups through farmer producer organizations and farmer producer companies and contribute to the national vision of 'Atmanirbhar Bharat' or 'Self-Reliant India'.
Swati Nayak and Kuntal Das
Dr. Swati Nayak: Scientist and Lead South Asia, Seed System & Product Management, IRRI-South Asia Regional center, Varanasi, India.
Dr. Kuntal Das: Senior Specialist, Seed System & Product Management, IRRI-South Asia Regional center, Varanasi, India.
For press inquiries or for more information, email us at great@cornell.edu.