The CGIAR's Excellence in Agronomy (EiA) initiative has an ambitious aim: to deliver agronomic gain for millions of smallholder farming households in prioritized farming systems, with an emphasis on impact for women and young farmers, by 2030.
This year, EiA partnered with GREAT to deliver gender- and youth-responsive training to Use Case teams and partners. The objective of the training was to enhance the ability of Use Case teams and partners to integrate gender and youth considerations in their workflows for more equitable and sustainable agronomic outcomes. This would help to catalyze the EiA initiative work to conduct both gender-integrated and gender-strategic research to inform the design and validation of gender- and youth-responsive agronomic solutions; and implement transformative approaches alongside these solutions to address the underlying causes of productivity gaps,  for over 20 million women and 10 million youth families. The GREAT training supports EiA's efforts as it works to show a measurable impact on food and nutrition security, income, resource use, soil health, climate resilience, and climate change mitigation.
 The training took place from February 27-March 4 in Kigali, Rwanda, and was attended by 23 participants drawn from EiA project teams and partners from 11 countries working on 13 Use Cases. It was facilitated by GREAT trainers from Makerere University and guest trainers from Bioversity International and CIAT, and led by Margaret Najjingo Mangheni, GREAT Co-PI at Makerere University. 
 The course employed a combination of innovative methods where explanation of theories and concepts was complemented with interactive sessions. Participants reflected on their ongoing work, identified gaps and mapped out concrete steps going forward. The well thought-out application activities and fun exercises cemented positive relationships among trainers and participants providing a safe space conducive for learning.
"What a training! I didn't know one week can change a man…….. I feel totally new!"

Kevin, social scientist
"Meeting great minds that have wide range of experiences in this field, learning and unlearning new things that are of great help in my career as an agronomist. Also great participants! I mean haven't bonded with new beings like this in decades. As an agronomist and also extentionist, I found a lot of answers to my questions after the training course."

woman, biophysical scientist
The content spanned 5 thematic areas:
gender concepts and why gender and youth inclusion matters in agronomy innovations;

frameworks for gender and youth integration in EiA workflow;

gender and social analysis;

targeting women and youth; and

gender-responsive scaling.
In addition, participants were introduced to the EiA Standard Operating Procedures for gender and youth integration. The course provided an opportunity to test the EiA gender- and- youth diagnostic tool after laying their theoretical foundations.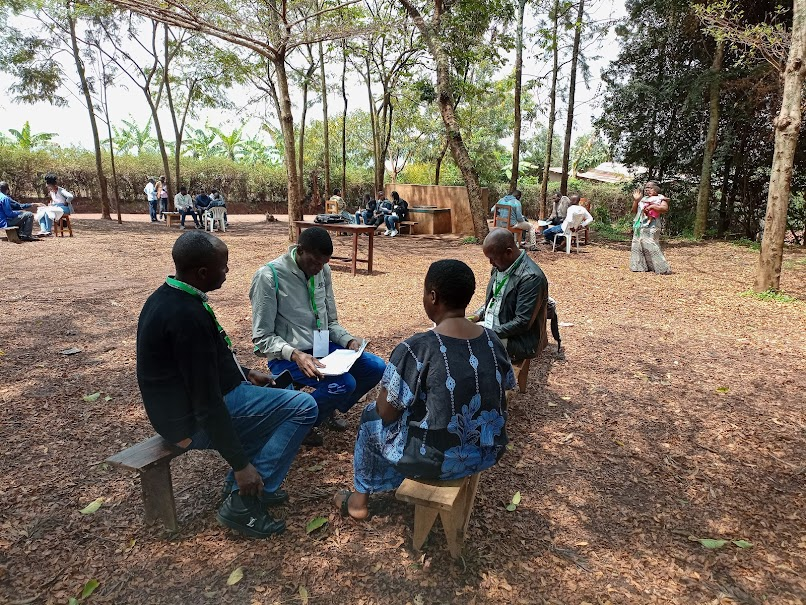 Participant teams during fieldwork to test gender and youth diagnostic tools.
Steve Cole, a gender scientist at the International Institute and technical lead spoke extensively about EiA and the value of integrating gender and youth in the workflows to achieve EiA outcomes, and encouraged participants to engage maximumly for a better understanding of gender and youth to inform integration in the workflows.
"We hope that this training will help you expedite those intentions to incorporate into the design of your MVPs gender and youth focus and move forward to the validation and piloting stages. Please engage at a high level to help you understand gender and youth to the next level so that we can achieve those agronomic gains that EiA wishes to achieve in this business cycle," remarked Cole.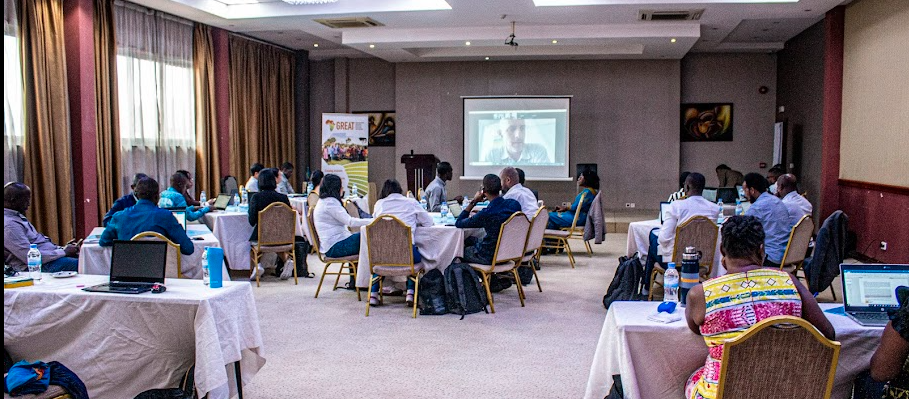 Dr. Steven Cole (on screen) giving welcome remarks.
One method EiA uses to advance its mission is the application of analytics and solutions to generate evidence to develop lessons of global application through use cases. Those Use Cases are developed with stakeholders in Cambodia, Colombia, Democratic Republic of the Congo, Egypt, Ethiopia, Ghana, Ivory Coast, Kenya, Malawi, Mali, Mexico, Morocco, Nigeria, Peru, the Philippines, Rwanda, Senegal, Uganda, Vietnam, Zambia, and Zimbabwe. During the training, participants shared experiences from the Use Cases and on-going work.
"As Use Cases, we need to work towards building a tool kit, providing on-demand support, gathering data and evidence that we can use to produce knowledge products on why gender and inclusivity matter that we can share with the wider audience. We will reserve a page on the portal specific for the gender community" Mandla Nkomo, Chief Growth Officer for EiA, said to the training group on March 3.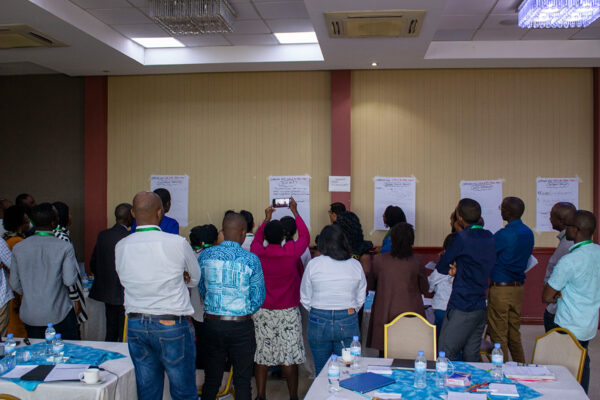 Through courses like this one, GREAT delivers training to agricultural researchers in the theory and practice of gender-responsive research, seeking to increase opportunities for equitable participation and the sharing of benefits from agricultural research and improve the outcomes for smallholder women farmers, entrepreneurs, and farmer organizations.
"We are here so that we work to make a difference in the lives of men, women and young people that we serve," said Najjingo Mangheni, co-PI of GREAT. "I urge all of us to not take the skills we have gained for granted. Let's continue reflecting on how we can apply these skills in meaningful ways for all individuals to benefit."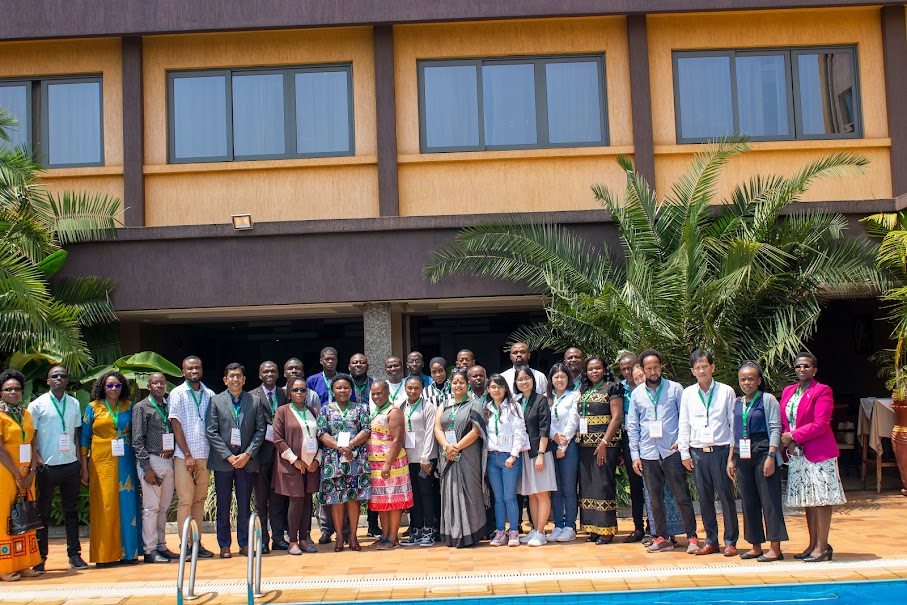 Group photo taken during the course.
Rajesh Kumar, officer on special duty for the Bihar Rural Livelihoods Promotion Society in India, said that the GREAT training transformed his perception of gender and agriculture.
"I leave Kigali with new resolve to make a difference in the agriculture sector and also with new understanding on gender and youth," he said. "I was initiated into the scientific world of data analytics with a social perspective. I thank the organizers for putting up a great team of participants. Bonding with co-trainees, at first sight, is a magic that rarely happens. People of different cultures, continents, and languages mingled as if we were friends for long. This instigated a cross-learning community which in the long run will have a definite impact. I came as a stranger but left with the yearning to stay more, collaborate more, learn more, and do more."
Participants working on Use Cases include:
Ghana GAIP Insurance
DSR-extension Vietnam
DSRC SE Asian Cambodia
Sprout Content Platform, Nigeria
CocoaSoils, Ghana
EiA-Sasakawa Africa Association, Nigeria
Landscape Specific Soil Fertility Management, Ethiopia
EiA Digital Green, Ethiopia
ATAFI-CARI, Nigeria
South Asia Planting Date, India
Smart Farming Systems at the local level: sustainability assessment and targeted data-driven recommendation for smallholder farmers, Mexico
Late Blight Potato, Kenya
Data Plus, Rwanda
On the final day of the course, participants presented gender and youth integration gaps they had discovered during the training, and proposed measures to address them in their workflows. The EiA gender team plans to undertake follow-up activities to support field-based application by Use Cases. Stay tuned for lessons from the field.
Course reflections:
"There was humanity, which was being celebrated. There are some trainings you go to that are mechanical. I really love the way we were respecting and giving our thanks to the professors or to the fellow colleagues there. It was, 'we feel for you, it's not a machine work, a machine world. We are here, we are talking about humans". Also, when we want us to be sensitive for gender and youth outside the world, we need to first be sensitive among the community-which we did so well". (woman, Social scientist)
"The trainers were also relating with each participant. I think this delivery skill comes with age or years of experience. Remember we were from several continents …. and 27 countries represented. But the professors were able to connect quickly with each one of us. So whatever we were saying, they were able to connect it with their own, like Uganda country. Some were saying, ….well this happens in my country, …this also happens. They were also very, very, open to learn" (woman, Social scientist)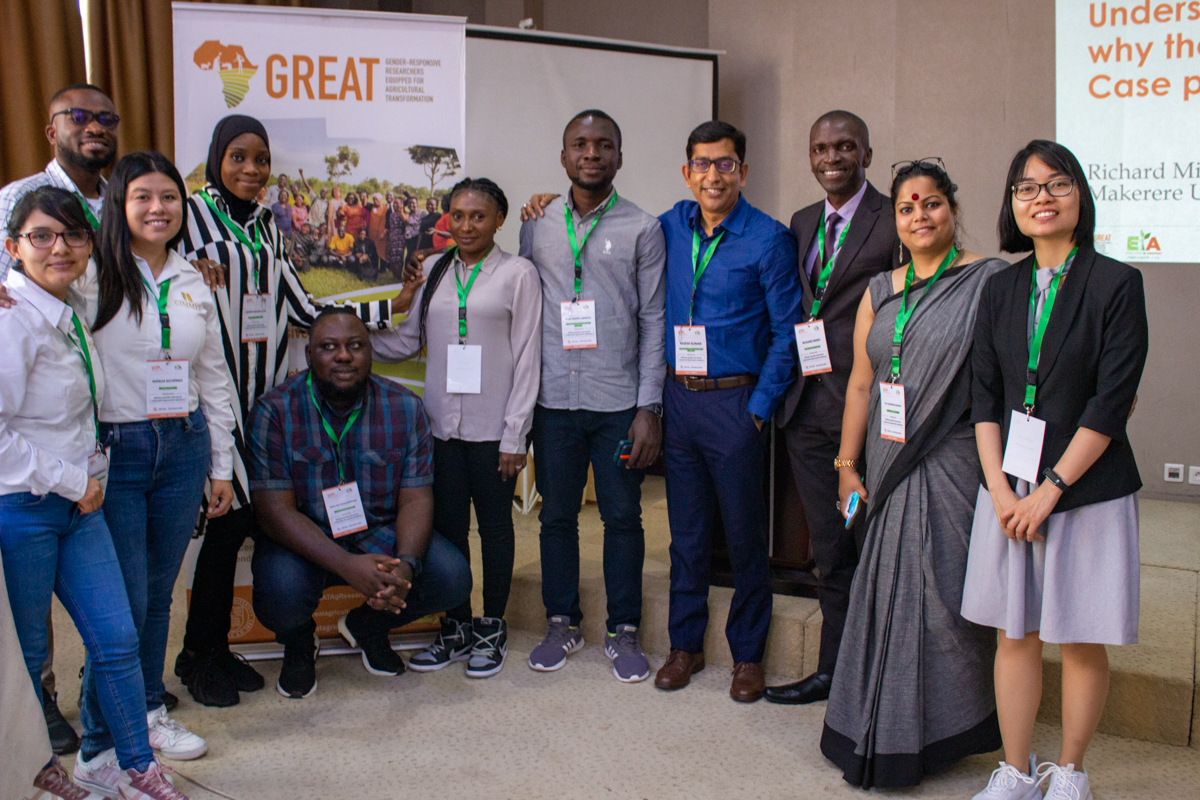 About GREAT:
Gender-responsive Researchers Equipped for Agricultural Transformation (GREAT) is a Makerere University (Uganda) and Cornell University (USA) joint certificate program in applied gender training for agricultural researchers, funded by the Bill & Melinda Gates Foundation. The bridging grant is implemented in collaboration with the CGIAR GENDER Platform. It offers skills in gender-responsive research tailored to assisting agricultural researchers to address gender issues along the design, implementation, evaluation, and communication pathway of their research projects. Over the years, GREAT has organized over ten gender trainings seven of which are funded within the grant while eight are demanded by partners and customized to suit their needs.
Elizabeth Asiimwe is an agricultural extension professional and works at Makerere University as the project manager for GREAT. Matt Hayes is Communications Director at Cornell University and GREAT.
For press inquiries or for more information, email us great@cornell.edu.