By: François Iradukunda, Bioversity International and GREAT Fellow
Thanks to the travel sponsorship I got from the CGIAR Collaborative Platform for Gender Research, I was able to attend to the Seeds of Change conference in Canberra, Australia, in April 2019. The conference contributed to a new chapter of the long journey that I started in 2016 as gender-responsive training recipient with GREAT, and later as gender-responsive researcher with Bioversity International, building on my background as an agronomist.
I can't leave out that my travel to Canberra was not altogether easy, given the many flight layovers needed to get from Bujumbura, Burundi to Canberra, but also, I encountered travel anecdotes that could always happen to any traveler to a new place.
One of anecdotes that kept my attention is the discussion I had with an immigration agent at one stopover at a check-in gate when she asked me about my travel purpose to Canberra. Confident in myself, I replied that I'm going to attend a seeds of change conference. She checked online using her mobile phone to find out whether the conference actually existed or not, and quickly found the conference's webpage.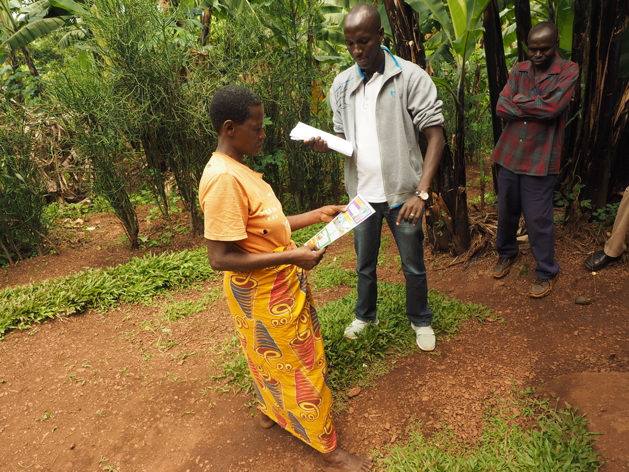 Photo: François Iradukunda assessing the efficiency of community knowledge
transfer strategy for both men and women, March 2019
To the question of what the title 'seeds of change' means, and which crop is actually bearing the seeds of change, I kept a silent for a while, shameful that I didn't challenge myself to find out the meaning of the conference's title before boarding. Shyly, I replied that it was about mainstreaming gender in agriculture, not because I understood the title of the conference exactly, but because I knew what I was going to talk about in the conference.
It was when I heard a metaphor of 'seeds' used by Professor Katherine Gibson from Western Sydney University in her keynote address on 'Building gender equity from the bottom up in agricultural communities,' that I was able to understand more about the conference's title. She challenged the audience with the following questions: What seeds are we sowing? What changes do we want to see? And are we sowing the seed that best fit our current climate?
The Seeds of Change conference was extremely inspiring by the fact that it brought together scientists coming from across the world, with different backgrounds, discussing and listening to each other about linking the themes of 'feeding the world' – which used to be an agricultural scientist' primary mandate – and "gender equality" – which used to be a gender expert/feminist's primary work.
In the Canberra conference, while the study's results I presented were about gender-dynamics in cropping systems and diseases management relying on a single commodity (banana), on a specific theme (banana disease), and in a specific country (Burundi), the seeds of Change Conference provided me with a broad understanding of different forms/types of gender inequalities from different part of the world, and how these influence people's livelihoods.
From my personal experience, it took me a while to get understand that being gender-responsive in search activities is not merely reserved for gender-studies graduates or feminism scholars, as I had tended to believe before. That myth gradually disappeared when I started getting involved in gender studies, getting occasions to attend conferences with cross-cutting themes including gender, presenting gender results to a wider and multi-disciplinary audience, including at the Seeds of Change conference.
From all the conferences/seminars I've attended I always go back with new ideas, new methods, new tools and more importantly, renewed energy to integrate gender components in the agricultural activities for which I'm accountable. For example, I'm excited to take a lead in developing a gender proposal for funding that is underway. I would be happy if it is funded, but if not, the most important thing is the experience itself that I'm getting through the process: having a critical thinking around gender, getting feedback from reviewers, and connecting with gender experts.
Integrating gender in proposal development is not merely showing how women and men will be involved in the project, just to meet the donor's requirements. Rather, researchers need to clearly articulate how women and men are affected by the issue they are addressing; they need to have strategies of engaging and reaching women; they need to show how interventions will benefit women, and more importantly to show how results will empower women. These are the key messages I took from Dr. Jemimah Njuki and her team, presenting a paper on "Lessons and outcomes from integrating gender across agriculture and food security programs in the Global" at the Seed of Change conference.
For me, these are seeds I carried with me back to Burundi.