By: Bernice Waweru, GREAT Cereal Grains Fellow
The Borlaug Global Rust Initiative Technical Workshop, held between April 13 and 17 in Marrakesh, Morocco, was one-of-a-kind. The venue was quite scenic and beautiful, with an experience of a mix of languages and cultures that came together to form a great community of people to interact with and learn from.
The highlight of the conference for me was the wheat breeding and gender panel discussion I had the pleasure of moderating during one of the morning sessions. This panel included Godwin Macharia from the Kenya Agriculture and Livestock Research Organization (KALRO) in Kenya; Alexey Morgunov from the International Maize and Wheat Improvement Center (CIMMYT) in Turkey; Fetien Abay from Mekele University, Ethiopia; and gender specialist Mulenesh Tsegaye from CIMMYT, Ethiopia.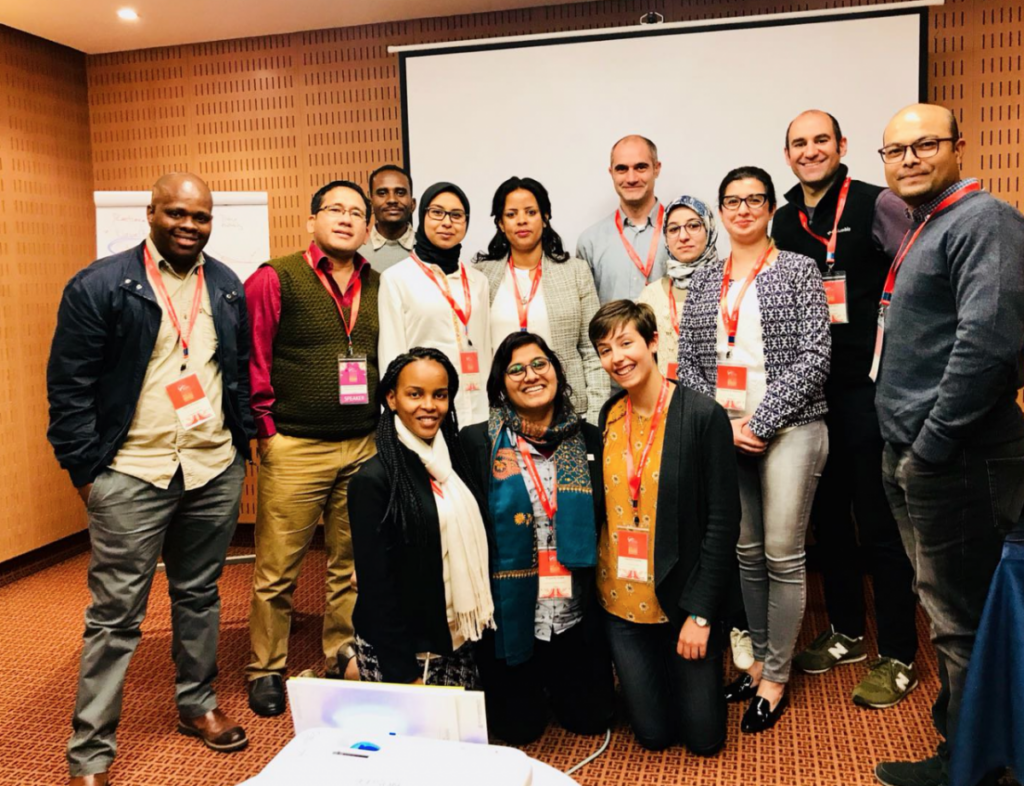 BGRI Technical Workshop participants at the professional career skills training session.
Photo provided by Bernice Waweru.
The discussion illuminated the consequence of considering gender dynamics and contexts within one's locality as a breeder for the target market of our products. Understanding the gendered roles that revolve along the value chain and utilization of the products is paramount in guiding priority setting for trait selection. Abay described how her organization involved both men and women at various stages in breeding for barley varieties, which is used to make the traditional Ethiopian staple injeera. Through this process, they identified varieties that increased production by 60%, and were adopted by more than 30,000 farmers within three years of its release.
It was great to be a part of the mix of people, all brought together by their passion and commitment to the cereal crop wheat. The first day of various training sessions to add value to the professional skills of the participants was a welcome addition, exposing the participants to recent advancements in wheat technology, and of course how to handle one's self in your professional career – a personal favorite for a growing scientist like me (trust me, they don't teach these things anywhere in a class!).
The gender balance of the participants did not go unnoticed: 331 participants in total from 31 different countries, 193 of whom were women (58%!).
The conference schedule had many different parts that were fascinating, from learning about the latest in genomics, to the latest focus on research including studying the root architecture of wheat, as well as advances in efficient breeding techniques. One such technique, speed breeding, was presented by Lee Hickey at the University of Queensland Australia, and is quickly being adopted not just around the wheat community but in inter-crops as well, like canola at JIC in the UK, and sugar beets at KWS in Germany.
Of course, delivery of products to the consumer is the ultimate goal, and there were various talks on case studies of successful seed systems and the importance of collaboration to combat the challenges. A great illustration was given by Hans Braun in the keynote presentation on the International Wheat Improvement Network. The presentation by former International Center for Agricultural Research in the Dry Areas (ICARDA) Director Mahmoud Solh was quite impactful. It demonstrated the importance of commitment, collaboration, political will and great leadership in the continuity of scientific research and preservation of diverse resources, as they worked to relocate ICARDA's research and genebank conservation material during the war that broke out in Syria.
Among the many awards given during the conference included the Jeanie Borlaug Laube Women in Triticum (WIT) award given to young women scientists doing excellent work in their efforts towards wheat for a food-secure world. It was a great opportunity to meet and share insights with these wonderful ladies and their mentors during the traditional Moroccan WIT dinner, set in the heart of Downtown Marrakesh. I listened as these ladies and their mentors delved into the importance of a work-life balance, and the need to focus and venture out on what we are individually good at, and seek out opportunities to hone our skills in order to excel. It is important to know exactly where you are going and what you want, for it is fatal to be a jack of all trades and a master of none.