Through the GREAT training, I learned about a wider aspect of gender. The relationship between gender and plant breeding and how it all connected to my work on traditional sorghum conservation intrigued me even more. The first phase of GREAT funded fellows to put to practice what had been learned, a model I had never seen elsewhere. This was great for a student like me just starting out on my research journey. To crown it all, I was awarded a seed grant to further the incorporation of gender into my work. This accomplishment boosted my confidence. Six years down the road, I now see that pursuing and completing my GREAT training was the best choice for my journey in developing evidence-based research.
I also had the chance to be chosen for the GREAT advanced course, which was a level above what I had completed in the initial training. I went in with high expectations, and they were completely exceeded. The course explored concepts like intersectionality that needs to be known in this gender field and also "gender fluidity." At first I didn't understand how that concept fit in the context of agriculture, but as I learned more I understood its importance in agriculture research. Now that I'm a member of one of the new research clusters I have been motivated even more to learn more on social norms, masculinities, and women's empowerment. The GREAT training has always encouraged me to think outside the box, keep unlearning things, and reach the potential that others have always recognized in me. GREAT is not your typical training; I was exposed to a new kind of training where the trainers and trainees worked together to learn from each other.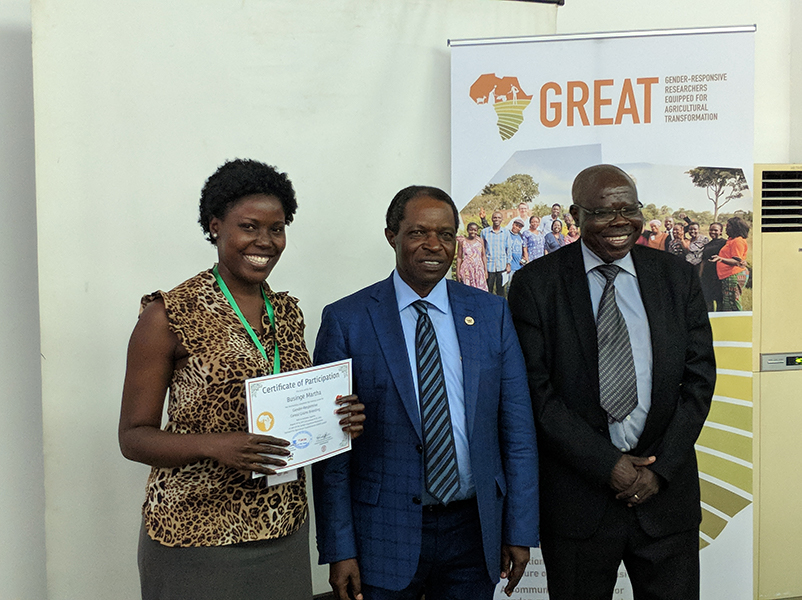 Martha Businge, left, receives her GREAT training certificate in 2017. Credit: GREAT
While there are a number of benefits that GREAT has availed to fellows, the most valuable for me have been in capacity building and clarifying the aims of my research journey.
Gender-responsive research skills: GREAT provided the opportunity to turn theory into practice and increase my skills in gender responsive research. For example, I am now being careful in interrogating men and women to ensure the voice of both is well articulated and documented, analyzing and communicating results. Through the advanced course I was introduced to a new methodology on gathering research evidence through a systematic review of literature, which opened up a whole new frontier to me. This pushed me to enroll in more training organized by the International Livestock Research Institute (ILRI) to better my understanding of Systematic literature review. With the team, I developed our literature review paper on "Empowerment" without Transformation?
I have been empowered: Being a shy person I have always refrained from public speaking. But GREAT saw potential in me and gave me the opportunity to present at the first project symposium and African Plant Breeder Conference held in Kigali, Rwanda. Of course, I was a nervous wreck before every presentation, but by the end I gained new confidence in myself  to speak amidst many people. Feeling empowered has increased my passion to pursue this journey.
I am on a path to becoming one of the voices that communicate evidence-based gender issues within the agriculture context. Evidence-based information is key in forming transformative change in agriculture, and I am excited to be part of the change.
Looking back, GREAT was exactly the springboard I needed for my research career.
Martha Businge
Martha Businge is a graduate student at Makerere University and a GREAT Fellow from the Gender-responsive Cereal Grains Breeding Course.
For press inquiries or for more information, email us great@cornell.edu.