Achieving greater parity among women and men in sub-Saharan Africa so they more equally share the benefits of agricultural research is the goal of an initiative announced today, on International Women's Day, in the spirit of the Pledge for Parity campaign.
The $5M grant to equip researchers to create more inclusive and effective agricultural systems by addressing the priorities of both women and men in sub-Saharan Africa (SSA) has been awarded to Cornell University, in partnership with Makerere University in Kampala, Uganda, by the Bill & Melinda Gates Foundation.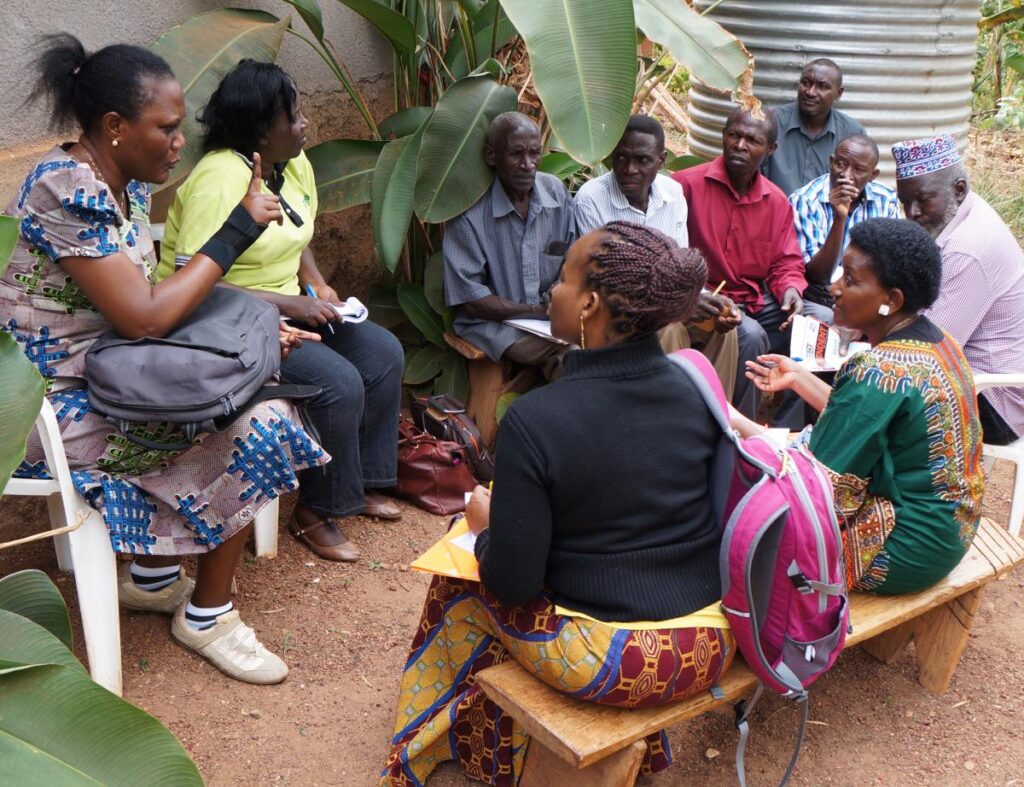 GREAT course participants and local farmers discuss 
gendered aspects of cassava farming during a field visit to
Wakiso District, Kampala, Uganda.
Gender-responsive Researchers Equipped for Agricultural Transformation, or GREAT, will deliver courses to agricultural researchers from SSA in the theory and practice of gender-responsive research in the key areas of root, tuber, and banana breeding; grain and legume breeding; small ruminant breeding; dairy and legume value chains; nutrition and food systems; knowledge exchange (extension); and agricultural mechanization.
"Women play critical roles in food production and processing, but their input is frequently overlooked by agricultural researchers," said Hale Ann Tufan, gender specialist and adjunct professor with International Programs in Cornell's College of Agriculture and Life Sciences, who will lead the project for Cornell. "Gender-blind research projects and products inadvertently increase the burden on women and limit the potential positive impact of research outputs."
"GREAT will increase opportunities for equitable participation and the sharing of benefits from agricultural research and improve the outcomes for smallholder women farmers, entrepreneurs, and farmer organizations across sub-Saharan Africa," said Margaret Mangheni, associate professor at Makerere University who has over 20 years of experience with gender-sensitive agricultural development projects in Uganda and across Africa. Mangheni will lead the project at Makerere.
GREAT will train researchers to address the priorities of both women and men when setting project goals, implementing projects, and measuring and communicating project outcomes.
Tufan gave an example using cassava, the root that is the main source of calories for more than 500 million people in SSA. "When research to develop new varieties of cassava is 'gender blind', it means that the needs of women who produce and process much of the cassava in SSA are neither considered nor met," she said. "When research on the root is 'gender-responsive', researchers seek input from both women and men in new variety development. Gender-responsive research results in higher adoption rates of the new varieties and greater benefits to 500 million consumers."
Researchers will learn the concepts and tools for gender-responsive research during an introductory week-long training at Makerere taught by African and international experts. They will then undertake several months of practical field experience collecting data from their ongoing projects, while receiving support from mentors and e-learning modules through a course website. Finally, they will participate in a second week of training at Makerere on data analysis, interpretation, and advocacy. After completing their training, GREAT participants will "put the evidence to work" at events in their home countries to influence policymakers to support gender-responsive policies and practices.
Researchers will attend GREAT courses in project teams from their respective African research institutions. By 2020, GREAT expects to have trained eight cohorts of up to 10 teams each, or more than200 researchers, representing at least 30 national and international research institutions in SSA. GREAT will foster learning and collaboration within teams and institutions, as well as across national borders.
"By building and engaging communities of researchers equipped with the skills, knowledge, and support systems to develop and implement gender-responsive projects, GREAT will advance gender-responsiveness as the norm and standard for agricultural research," noted Tufan.
GREAT will build further capacity in the agricultural research community in SSA by establishing a center of excellence at Makerere to spin off future courses from the trainings and will integrate gender-responsive curricula at Cornell and Makerere to transform the teaching of agricultural research.
In addition to numerous international and national research program partners whose researchers will participate in the courses, GREAT will collaborate in SSA with African
Women in Agricultural Research and Development, or AWARD, and the Association for Strengthening Agricultural Research in Eastern and Central Africa, or ASARECA. At Cornell, GREAT will collaborate with Advancing Women in Agriculture through Research and Education, or AWARE, an initiative that strengthens gender-responsive research and engages a local community focused on empowering women in agriculture. A high-level External Project Advisory Committee of gender experts and agricultural and development professionals will guide GREAT as the project carries out its work.
Dan Torrington
Dan Torrington is the project manager for GREAT.
For press inquiries or for more information, email us at great@cornell.edu.