By: Dr. Madu Tessy, Olaosebikan O, Bello A, Owoade Durodola, and Justin M.
It's been a little over a year since the NextGen Cassava and HarvestPlus Nigeria team graduated from the GREAT Gender-Responsive Root, Tuber and Banana Breeding course (GREAT RTB). As GREAT RTB fellows, we were equipped to transform Africa's agriculture by applying our gender lens. Eager and excited to apply knowledge acquired to current research activities and projects at our institutes, the International Institute of Tropical Agriculture (IITA) and the National Root Crop Research Institute (NRCRI), we commenced gender participatory varietal selection (PVS) trials with men and women cassava farmers and processors, using a task-group approach and mixed methods to elicit useful information for product profiling of gari, a major cassava food product consumed in Nigeria, led by Dr. Béla Teeken, IITA gender post-doctoral fellow.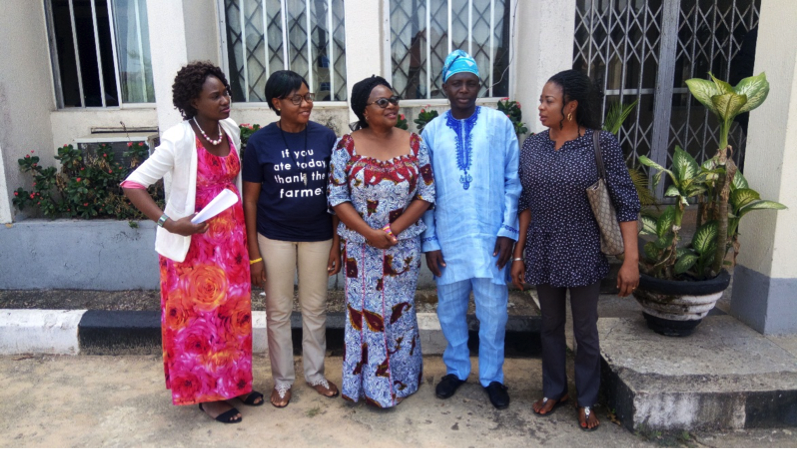 GREAT Fellows Nigeria Team at the BASIS-Gender Training Workshop for VSEs. From L-R: Olaosebikan O, Owoade Durodola, Dr. Tessy Madu, Bello A and Justin M.
A highlight of our post-course activities was when GREAT trainees had the opportunity to become trainers and facilitated sessions on getting personal with gender, gender mainstreaming in a project life cycle, gender dynamics in cassava seed systems, gender-based constraints and opportunities in cassava seed value chain. This was part of the gender component of the Building Sustainable Integrated Seed System for Cassava in Nigeria project (BASICS) at NRCRI. The training workshop on gender sensitization and mainstreaming was organized and led by Dr. Tessy Madu, NextGen and RTB foods gender focal point for NRCRI and BASICS Project Gender Component Lead.
We had a solid audience of 50 village seed entrepreneurs (VSEs), comprising 35 men and 15 women cassava farmers from south-south (Akwa-Ibom and Cross River states) and southeast (Abia and Imo states) in Nigeria. Participants were informed of the need for good gender relations in business and collaborative decision making at the household level. Some participants boldly testified to their change of mindset and promised to always put on their gender lens.
The gender training session began with the slogan: "Great farmers, great nation, no farmer, no nation." There was disagreement on what women and men were capable or not capable of doing, but also agreement about the need, in a changing society, to reinvestigate prejudices and the current opinions held about proper roles and practices carried out by women and men. General constraints of women were identified as access to land as well as labour. The sessions ended with the slogan "No women, no food on the table, no nation," clearly acknowledging women but stressing their traditional role. However, the amused and joking atmosphere around the food on the table part of the statement suggested consciousness among the participants about this being a cliché used in a teasing manner. Training manuals were also given to participants.
The workshop became an excellent opportunity for the BASICS project and trainers to receive feedback/opinions from men and women cassava VSEs on how to achieve its objective of ensuring equitably commercialized access to improved cassava seed in Nigeria. The sessions were interactive, using pictures, practical examples and exercises. Points were noted on flip-charts, questions were asked and participants individually wrote down their opinions on gender issues relating to access to quality and improved cassava seeds, what men and women need to actively and jointly participate as VSEs, and strategies that can foster more men and women engagement as VSEs.
Interesting lessons were inferred from VSEs responses and opinions which is summarized in the figure to the right. Accessible cassava seed sources mentioned by participants included fellow farmers (mainly men farmers), neighbours, extension officers, open markets, research institutes and theft. While men had unlimited access to all the identified seed sources, women had limited options: sourcing from neighbours and open market due to their mobility constraints, and lack of access to cars, trucks and motorcycles. The main mobility constraint for men was bad road networks – which also affects women.
Apart from mobility, other limitations were timely availability of seeds when needed, norms arising from gender roles specialization, authenticity of improved cassava seed bought by farmers, and variety information. This limitation is being addressed with this laudable VSE initiative. The men and women VSEs are trained to produce and market National Agricultural Seed Council (NASC) certified improved cassava varieties (ICVs) seeds at the community level, reinforced by the cassava seed tracker (CSE) which makes the VSEs and their seed products visible online, and even facilitates international marketing.
For project sustainability, equity achievement of set objectives and engagement of more men and women VSEs across Nigeria, the highlighted strategies and needs must be met by applying a gender lens.
We share our gratitude to GREAT for providing us with useful reference materials and knowledge to impact others, BASICS project director Hemant Nitturkar, and BASICS Quality component lead Dr. Joseph Onyeka for allowing the integration of gender sessions in VSEs training. We hope for more support from GREAT and looking forward to yet another and better VSEs training soon.